Servicing all makes and models
ASE CERTIFIED TECHNICIANS

Digital Vehicle Inspections
All of our inspections are done digitally and sent via email or text message. This allows our customers to stay informed about any possible issues or concerns with their vehicles. We take pictures of the vehicle including anything in need of attention, such as air filters, leaks and lights that may be out. This gives our customers an accurate picture of what their vehicle may need immediately or in the future!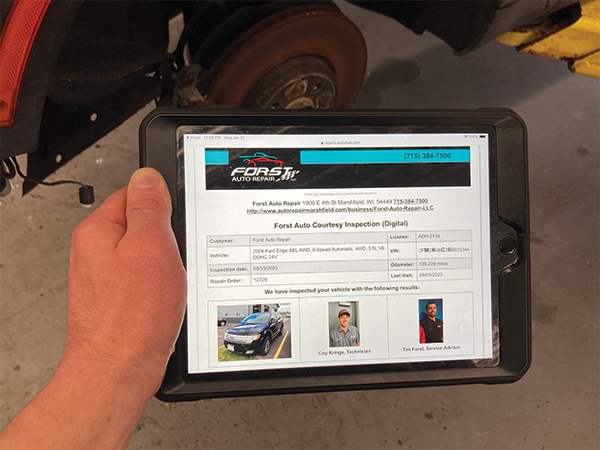 TOP NOTCH SERVICE FOR ALL VEHICLES AT FORST AUTO REPAIR
Forst Auto Repair has the knowledge, experience, and equipment necessary to maintain and repair all types of imported and domestic vehicles. With up to date technology we are the shop to choose in Marshfield, WI, whether you need an oil change, extensive repairs, or for sudden problems that may arise on any vehicle. We treat every vehicle with meticulous care, looking for undetected problems, and using our expertise to return the vehicles to our customers in elite condition. Our reputation for accurate and efficient service sets us apart from the competition for all services we offer on any car or light truck of any make and model.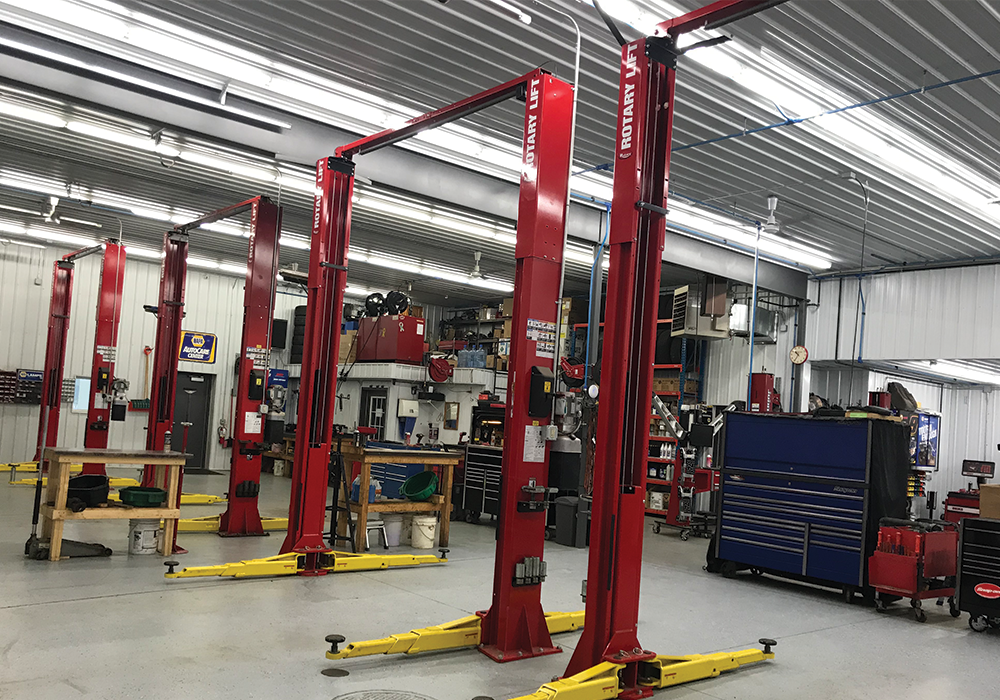 Alignments
Precise Alignments for any vehicle. Whether your vehicle is lowered or lifted we have the most up to date, state of the art equipment to complete your service.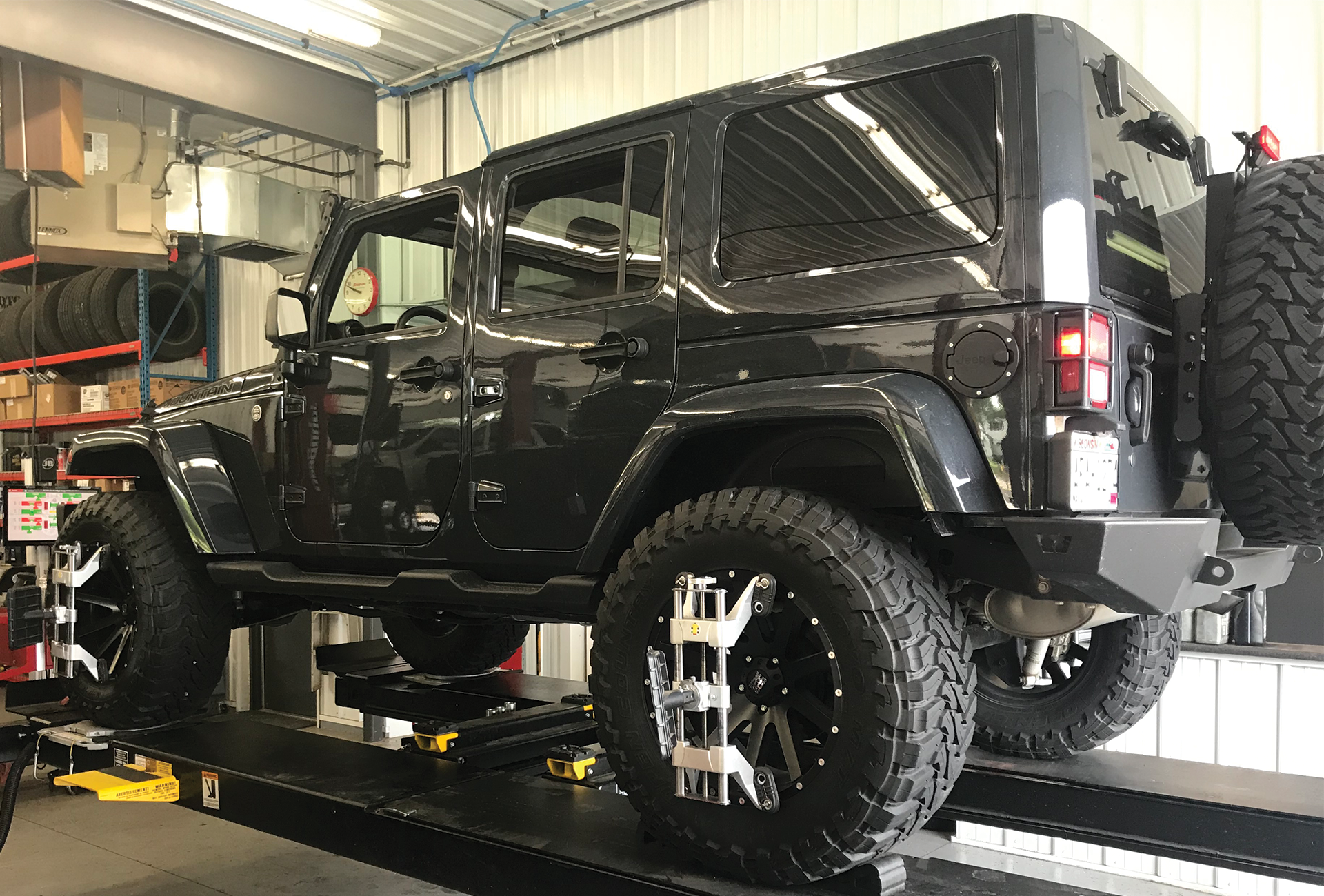 Air Filter Replacement
Alternators
A/C Repair & Service
Automatic Transmissions
Batteries
Brake Repair & Service
Check Engine Light
Clutch Repair & Replacement
Coolant/Antifreeze Change
Custom Wheels & Rims
CV Joints
Diesel Pick-Up Repair
Differentials & Axles
Drive Axles
Electrical Diagnostics & Repair
Emission System Repairs
Engine Repair & Replacement
Exhaust/Muffler Repair & Service
Fluid Flushes
Fleet Maintenance & Repair
Four Wheel Drive
Front Wheel Drive
Fuel Injection Cleaning
Headlight Restoration
Heating Systems
Level Kits
Lift Kits
Oil Change / Lube Service
Overdrive Transmissions
Power Doors & Windows
Preventive Maintenance
Radiator Repair & Service
Standard Transmissions
Starters
Steering
Suspension, Shocks & Struts
Tire Sales & Repair
Timing Belt Replacement
Transfer Cases
Transmission Service
Transmission Repair
Tune-ups
U-Joints
Water Pumps
Wheel Alignments
Wheel Balance
More on Our Auto Service Specialties

Brake Repair & Service
Brakes are your lifeline when you are driving, and expert Brake Repair can give you a more reliable ride. Common signs that you need Brake Repair include a grinding or squealing noise as you brake or a soft feeling as your press down on the pedal. If you have any concerns about your vehicle's ability to stop quickly or in a short distance, let our technicians give you peace of mind with complete Brake Repair for your vehicle's brake pads, parking brakes and all other parts of the braking system.

Oil Change / Lube Service
Your vehicle needs an Oil Change regularly to continue operating at its optimum level. Without regular Oil Changes, the oil in your car could break down, leading to poor lubrication between parts in your engine and eventual breakdown of expensive metal parts. A simple Oil Change at Forst will get you back on the road quickly. An Oil Change with us also comes with a basic multi-point inspection of your vehicle.

Suspension, Shocks & Struts
Suspension Repair at Forst gives you a comfortable and quiet ride. If you have noticed that your vehicle seems to sway more than it should or that it bounces down the road even when the roadway appears smooth, you may need Suspension Repair. Without complete Suspension Repair, you could be damaging other parts of your vehicle over time because so many parts work together as a complete whole. To save yourself from more costly repairs in the future, consider a Suspension Repair today.

Check Engine Light
A glowing Check Engine Light may fill you with panic if you have no idea whether something major is truly wrong with your engine. At Forst Auto Repair, we can provide complete Check Engine Light diagnostics, troubleshoot common issues in your vehicle and determine what type of service your engine may need. We use the latest technology to pinpoint the exact issue to which your Check Engine Light is pointing so that we eliminate unnecessary costs.

Preventive Maintenance
Even if your Check Engine Light is not glowing, your vehicle still needs regular Preventative Maintenance so that it can stay on the road and remain dependable for as long as possible. From Oil Changes and simple inspections to minor adjustments, we can get your car's engine humming along following a Preventative Maintenance check and can help you eliminate the possibility of future costly problems. Preventative Maintenance may also reveal other growing issues with your vehicle and may show the need for Brake Repair or Transmission Repair.