Your Hyundai Repair & Service Shop in Marshfield, WI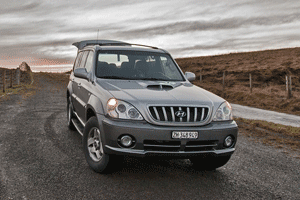 Usually style, economy, and performance don't all fall into the same package, but Hyundai vehicles often strike the perfect balance between the three. Owners love Hyundai's reliability in even the roughest driving conditions (think potholes and unpredictable weather), as well as its sleek contours. Best yet, Hyundai's affordability makes its vehicles available to just about anyone.
Forst Auto Repair LLC is your one-stop shop for all your Hyundai repair and maintenance needs, from minor repairs to major overhauls. Whether you drive an Elantra, Sonata, or Hyundai SUV, we begin every Hyundai repair with a comprehensive inspection to determine the exact work you need.
At Forst Auto Repair LLC, we know Hyundai vehicles just as well as the Hyundai dealerships. Our technicians stay up-to-date on the latest Hyundai technology and features to ensure we can take care of your vehicle whether you need an oil change or engine replacement. If you live in the Marshfield area, we hope you'll count on us to keep your Hyundai performing at its best.
If any warning lights display on your Hyundai vehicle, you should head to an auto repair shop as soon as possible (at a minimum within the next 600 miles). Generally, your motor oil and filter must be changed at least once a year, and this may be the culprit. However, if you're driving in optimal conditions, your vehicle might not indicate the need for vehicle service for more than a year. At Forst Auto Repair LLC, our trained technicians can accurately determine when your Hyundai needs maintenance, exactly when and not before or after it's necessary.
The brake pads on your Hyundai vehicle are equipped with wear indicators that will produce a squealing noise when the brakes are almost worn out. The noise will start when there is about 2 mm of brake pad friction remaining, which is when brake pads need to be replaced. If you are hearing this noise, your brake pads should be replaced as soon as possible. (The noise may be present even when you're not applying the brake pedal.) At Forst Auto Repair LLC, we can help with all your Hyundai service needs.
Call Forst Auto Repair LLC for Hyundai Repair & Maintenance
When your Hyundai needs repairs or maintenance, call Forst Auto Repair LLC in Marshfield, WI. We'll work to get you back on the road quickly with minimal hassles and headaches.